This will shock you
Hi
Today I thought i would give you a little sweet treat
It's not the same going out to meet your friends for a coffee with out cake is it?
Well it isn't for me ha
They just go together so well don't they?
The thing is by the time you have supped and ate your favourite latte and cake you have probably nearly consumed 3 quarters of your calorie intake for the day!
Shocking eh??
I mean it was only a drink and slither of cake surely it can't be that bad!
But yeah it is and we don't realise how many calories/sugars are hidden away in these tiny things we would call a snack.
I was shocked the other day when reading up on those Costa and Starbucks festive coffees that are doing the rounds a the mo, lovely as they are did you know some have up 20 tea spoons of sugar in just one drink and around 650 calories!!!????
So top that with a slice of cake or cookie you are well over 1000 calories already and I dread to think how much sugar!!!!!
So that harmless little coffee and cake isn't as harmless after all is it?
To check out these festive drinks click HERE I think it may well shock you!
So I thought I would help you out today.
How about baking your own healthy cakes that are just as sweet but a lot healthier?
One of my clients Caroline always does this little star that she is 😉
She bakes some biscuits, bars or cakes then goes and meets up with her friend for coffee and takes them with her. No one ever notices
Her friend also being my very good friend Helen also a fellow and an amazing instructor loves them and says they are nicer than the shop bought ones any way 😉
So here goes a recipe you can try that will save you on your calories, have less sugar and all with natural ingredients plus even great to eat if you are detoxing
Sweet Potato Cakes

Blend
2 sweet potatoes
10 dates
1 tsp Cinnamon
1 tsp Nutmeg
1 tbsp Ground almonds
1 Handful of raisins
1 egg
Make into small cakes and bake for 20 -30 minutes at 200c
And that's it there you go!!!
I would love you to give them a go and let me know what you think…
Have a fantastic weekend!
Karen "off for a slice of cake" Austin xxxxxx
PS:
I share loads of yummy healthy recipes like this on my up and coming "Brand New Online 3Rs Program" launching soon! So if you would like to be the first to find out what it's all about and be added to my priority list then just click HERE
Chocolate Burns Fat Yeh!!!!!
Hi
Got good news for today chocolate burns fat!
Yep that's right. Chocolate is not only a fat -burning food but it's natural way to prevent those cravings and help with your brain serotonin levels (mood)
Yeh!!!!
But keep in mind that this may not be the type of chocolate you're thinking of 😉
You need to be checking that it's got at least 80 % of cocoa powder in it if not higher and preferably organic
I am always telling my girls to drink a hot cocoa to take the edge of their cravings and it really works
Also its great to warm you up in this weather Brrrr
Some facts about chocolate
.High percentage, raw and unsweetened cocoa is loaded with phytonutrients and can aid you in fat-loss efforts.
.The major benefit of cocoa the main ingredient in chocolate is in its ability to directly affect the pleasure centres in the brain.
.The compound phenylethylamine (PEA) helps you feel satisfied, motivated, and energised.
.This effect cannot be overstated as even the most well- intentioned and well-planned goals often fail due to lack of motivation and our will power lasting only so long.
.The compounds in cocoa are an amazing asset and greatly enhance your metabolism
Below is a recipe for the cocoa drink below, used by cultures for centuries to aid health and control fat gain.
Drink it with pleasure and without guilt.
I use Green & Blacks Organic Powder ​
HOT COCOA
Meal in a glass smoothies are refreshing and cooling, but sometimes you need a warm, soothing drink, especially when it's cold outside.
Add a dash of cinnamon, cayenne or cardamom.
1 to 2 heaping tablespoons raw organic cocoa powder
Unsweetened almond or rice milk, to taste
1 to 2 teaspoons stevia, truvia or xylitol.
Enjoy and let me know if you give it a try
Plus please feel free to share this with your friends
Karen "looooves chocolate" Austin xxxx
PS:
Remember all commercial and milk chocolate bars are made with sugar and will raise insulin levels, so if you are craving for chocolate grab a couple of blocks of dark organic chocolate with a high percent of cocoa or preferably stick with the cocoa drink above for best results.
Would you like something yummy?
Hi
I would like to share with you a recipe today

A lot of you have emailed asking me for help with more recipes ideas.
I always notice that people struggle for ideas for breakfast and lunches that's quick, easy and allows them to get their protein in,
So I thought I would kill 2 birds with one stone a share a recipe that can be used for both

Jenny one of my new Kick Starter's can't get enough of it and totally loves it.
Can you jenny ? 😉
And the scrummy recipe is ………
Pesto Crustless Quiche
Ingredients
1. Chopped fresh basil and spinach leaves
2. Cubed organic feta cheese
3. 2 tea spoons of pesto sauce
4. 2 whole eggs (could use more)
5. 500ml or 2 cups of liquid egg whites
Add all the above ingredients into a bowl and give it a good whisk
Once whisked pour carefully the ingredients into silicone moulds
Add some grated strong cheese
Bake for 20 mins or until cooked at 180c
Dress with salad
Add some olive oil
Eat hot or cold
Perfect fat burning meal

You don't have to stick to the ingredients exactly Jenny likes to chuck a bit of chicken and other veggies in that she likes too

This recipe is great as it only takes a couple of minutes to whisk together and once baked you can use it however as it's tasty hot or cold
You can cut a slice for breakfast or take a slice to work for lunch.
And hey presto there you have it a recipe including protein, good fats and tons of fibre

Let me know if you give it a go and what you think?
Hopefully you will love it as much as my girls do!
Have a great week …..
Karen "loving my quiche" Austin
PS:
Keep your eyes peeled for my New Online Program the 3R System coming soon, where you will get lot's of fat loss yummy recipes just like the above
A Little Real Life Story For You
Hi
Today I wanted to share a story with you all regarding one of my clients Vicky.
I think you will all relate to this story in some shape of form so I really wanted to tell you it
Vicky came to me about 3 months ago really fed and frustrated as she had this special dress she wanted to wear at her up and coming wedding anniversary but she didn't like how she looked in it.
We have all been there right?
I mean how many times have we seen that stunning dress in the shop, tried it on and thought christ is that really how I look? I did just the other week I hate those bloody changing room mirrors 😉
Anyway Vicky was a challenge to work with as not only did she have a bad back and shoulder injury so her exercise was limited  but she had always followed faddy diets and was obsessed with the scales My biggest pet hate ever 😉
Vicky couldn't understand that how come she was hardly eating anything and zumbering and jumping around on her trampoline every week and that nothing was shifting infact she felt bigger than ever.
Sound familiar?
After doing some questionnaires and chatting with Vicky I knew instantly what was going on, let me tell you a little about her lifestyle.
Vicky is married with 2 young children to look after,  has a stressful managerial job, studies , doesn't sleep well, skips meals often and frequently doesn't eat until 3pm in the afternoon, Is never thirsty so never drinks any fluid except coffee etc, tries every faddy diet going,  feels tired a lot  but still tries to fit in as many exercise sessions as she can between everything else that life throughs at her or else she feels lazy and beats her self up about it otherwise
Can you see what the issues are there?
I knew instantly Vicky's body was in metabolic compensation and that she had pushed her body too far and until we fixed her metabolism and got her healthy the weight/fat would never shift.
I told Vicky exactly how it was and told her she had to eat more and cut down on her exercise if she really wanted to see change.
Can you image the look I got ha.
Reluctantly Vicky went away with her tail between her legs with a meal plan of 3 balanced meals a day non negotiable , to increase her fluid intake, and to focus on the quality of the exercise not the quantity and to do lot's of leisurely walking when ever possible.
I knew what she was thinking how can she eat more and exercise less and expect to lose weight.
That first weekend I got a text saying Karen I have put on 2lbs!!! I had told her not to weigh her self!
So what did she do she went out and binged all weekend!!!!
Bet you have done this as well before haven't you ?
Any way at  our next session I really had to make her realise that until we start improving her health and help fix and balance her metabolism then nothing is going to change.
So I gave her a choice either to keep doing what she was doing looking for the next quick fix just to be disappointed and still  be in the same situation years down the line or trust me and spend some time focusing on her health and eating correctly so we can fix what is really going on within her body.
Luckily I convinced her and within the first month there was no weight loss I could tell she wasn't happy but she lost 8 inches so I knew things were happening plus she was starting to feel a lot better in herself too so bonus!
Now 3 months down the line the results speak for them selves Ta Dah she is now over a stone lighter and has dropped most importantly a whopping 22 inches!
She was so happy when trying her dress on it zipped straight up, fitted like a glove plus she was so chuffed that she no longer needed to wear her Bridget Jones knickers 😉
​What a great feeling eh?
And guess what she doesn't care any more about the scales! Yippee!!!!
I am so proud of Vicky that she stayed with it and trusted me and now look at her below!!!
She looks amazing don't you think?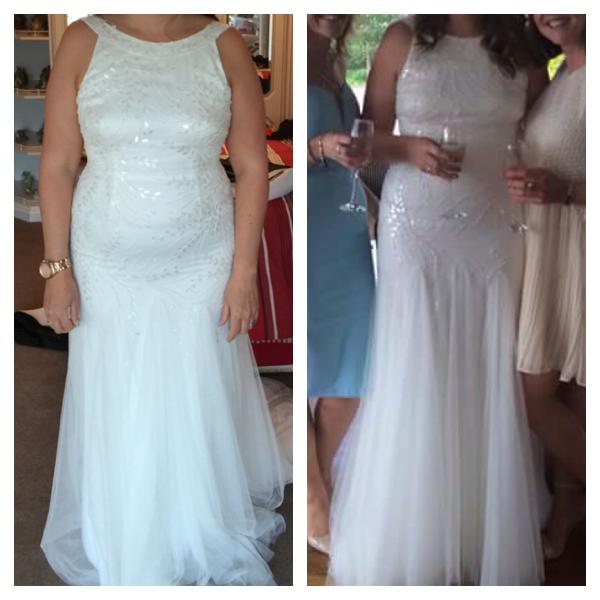 I really wanted to share this story with you as it is such a big problem that I see and witness all the time which makes me so sad watching women judging their success by a number on the scales and jumping from one diet to another while spending hours and hours in the gym putting so much stress and pressure on themselves.
Stop wasting time chasing new fads, looking for that secret potion that isn't and spend that time investing in your health.
An unhealthy body will never burn fat effectively, so you need to get your body healthy and the rest will follow
Surely it makes more sense spending a few months fixing your metabolism instead of a lifetime getting no where fast don't you think?
There was no secret potions with Vicky she just ate 3 balanced meals of protein, fibre and starch daily, increased her fluid intake, stopped her punishing exercise regime and focused on the quality of the exercise instead while training 3 times a week once with me and that's it!
No huge secret there is there?
I hope Vicky's story has helped you a little and put things into perspective regarding the myths of diet and exercise.
I am actually working on a mini online program at the mo so I can reach out to help more women no matter where you live which is really exciting for me
I am hoping to get it ready and launched for September!
So if you think this may interest you and you would like to register your interest so you can be the first to know when it becomes live no commitment then just click HERE
Well thats all from me folks again for another week.
Have a great weekend and remember to let me know your thoughts by just hitting reply.
Karen " stay off them damn scales" Austin xxxxx
The Lazy Way To Detox!
Hi
Today I have a corker of a tip
I apologise for those who have already received this information but I have had quite a few of you asking me about this lately so thought I would send it out again plus to remind you that know all ready about it to do it
This tip  I know you can all do and you won't even moan about it ha
Today's tip is about a DETOX BATH
Yey!!  Yes you can lie on your back, do absolutely nothing, relax and detox in your bath Mmmm complete bliss
I regulary have a detox bath at least once every 2 weeks leaving me feeling absolutely relaxed and invigorated all at the seem time.
I love nothing better than lighting my candles , playing my relaxing music and soaking in a red hot bath although it can be a bit off putting with 2 beady eyes peering over the side of the bath ha thats my best bud Tilly the Cocker spaniel in case you were wondering ha I swear I can't go any where with out her!
I think Tilly needs a mini bath next to me like this ha
What I notice with women is  that we are all so stressed all the time, rushing around, working, keeping home, running around after the kids, trying to keep it  together, always comparing our selves to others etc….
But ladies beware with all this stress will come high amounts of a hormone called cortisol which prevents fat burning and  is not good news especially when us as women are constantly worrying about our weight causing a double whammy.
A detox bath is one of the easiest ways to lower cortisol levels and heal our bodies by naturally helping it to detox and flush away our toxins and what better time of year then  to try it is Christmas
Today's tip is about a DETOX BATH
Yey!!  Yes you can lie on your back, do absolutely nothing, relax and detox in your bath Mmmm complete bliss
I regulary have a detox bath at least once every 2 weeks leaving me feeling absolutely relaxed and invigorated all at the seem time.
I love nothing better than lighting my candles , playing my relaxing music and soaking in a red hot bath although it can be a bit off putting with 2 beady eyes peering over the side of the bath ha thats my best bud Tilly the Cocker spaniel in case you were wondering ha I swear I can't go any where with out her!
I think Tilly needs a mini bath next to me like this ha
Below is why and how to take a detox bath.
If you dont want to know all sciencey stuff scroll down to the bottom where it just tells you how to set up the bath:-)
Other than stress and the junk we eat/drink , there are a lot more toxins  our bodies are subjected to, in fact more than ever especially now a days.
Toxins are in the air we breathe, the food we eat, the medications we take and in the water we drink. Toxins cause irritation, harm and destruction in the body if left unchecked.
Detoxification is the body's way of removing and metabolizing these dangerous compounds. It is a process the body does naturally without us even knowing it but at times it really does needs our help!
A detox bath encourages the body to efficiently flush out toxins.
Did you know just doing  your regular morning routine you are exposing your self to extra toxins and pollutants you didnt even know about  eg in your shower water, soaps, shampoo, tooth paste, even your typical breakfast food has been covered in pesticides.
Crazy eh? While it is impossible to avoid  exposure to all toxins, we can help our body reduce them by helping improve our body's efficiency and ability to eliminate them.
When we take a detox bath, we not only boost our health and well-being, but also strengthen our immune system and prevent disease.
When metabolic waste from toxins builds up in our body, we get sick. It is important to enhance our body's ability to detoxify and get rid of the waste, meanwhile minimizing our exposure to toxins. This is important  for excellent health, as many of today's modern diseases are related to toxicity.
Our liver is the mainly organ that removes our toxins and metabolic waste out of our bodies  eliminating it  through either urine or the bowels. Toxins not eliminated or completely removed by either process can be be eliminated through the skin via sweat hence the detox bath
Typically a detox bath is made with epsom salts also known as magnesium sulfate, which not only draws out toxins,but has health benefits of it's own:-
Ease stress and improves sleep and concentration
Help muscles and nerves function properly
Regulate activity of 325+ enzymes
Help prevent artery hardening and blood clots
Make insulin more effective
Reduce inflammation to relieve pain and muscle cramps
Improve oxygen use
Flush toxins
Improve absorption of nutrients
Help form joint proteins, brain tissue and mucin proteins
Help prevent or ease migraine headaches
How to have a Detox Bath
1. Add 5-10 drops essential oil/oils (I love lavender or eucuplytus ) to 2 cups epsom salts , then add to a standard tub full of water.
2. Ideally, you want the water quite hot as we are looking to create a nice sweat.
3. If your bath water is not filtered, add 1 cup of baking soda as this helps neutralize the chemicals, primarily chlorine, as well as increase mineral absorption.
4. Immerse yourself in the water, all the way up to your neck. You want as much of your body underwater as you can. Close your eyes, do some breathing exercises and soak for at least 20 minutes.
5. Once you are done soaking, rise out of the tub very slowly and cautiously. You may feel a little dizzy and light-headed, this will go away as you shower off quickly in cool water.
6. It is important not to use harsh soaps or shampoos as your pores are open and will just absorb the chemicals found in those products.
7. Once dry you can apply a natural moisturizer like body butter, shea butter or coconut oil and some aluminum -free deodarant but again no lotions with perfumes, dyes or chemicals.
8. Do not eat immediately before or after taking a detox bath.
9. Instead hydrate yourself with filtered water before and after.
10. Allow time after your bath to rest and rejuvenate.I usually listen to a relaxation app
Doesn't it sound good??
Remember YOU are important too as when us women fall ill everything falls apart 😉 so treat your self and your body to a couple of hot detox baths as you deserve it.
Go on spoil your self 
Karen " off to get some epsom salts" Austin xx
Do you like your wine???
Hi
Do you like your wine?
I do especially white , whats your favourite?
I am afraid though after many years me and my friend white wine have parted ways ,as not only does it make me act like a twit but  leaves me with horrendous lows
 How about you?
Well it seems to be an issue with a lot of women and there was a feature just last week in the Daily Mail regarding the effects of  wine white especially and guess who was featured in it? Me! ha
I wanted to raise awareness of alcohol, even though they quoted some of my most embarrassing moments 😉 and to explain why I have gave up the wine plus to raise awareness of Januarys Dryatholn
If you would like to read the full article and my embarrassing moments then click the link below
http://www.dailymail.co.uk/femail/article-2910430/The-women-say-white-wine-turns-monsters-s-NOT-drink-it.html
Well me and my girls are well over half way in our Dryatholon and we are going strong!
I decided to set up a team this year as what  I was finding was  that when I am teaching my courses the hardest thing for women to give up or cut down on is their alcohol consumption does this sound like you?
More and more women seem to be using alcohol as an escapism at the end of the day and a way to relax but what they are finding is they are waking up tired, no energy, sluggish, depressed and unable to shift their excess weight causing a vicious circle. Sound familar?
One of my clients even said wine was ruining her life you know who you are 😉
Honestly though the amount of times I hear women say if only I could give up the booze I could be so slim. Have you ever said that?
So When Cancer Research Uk was doing a Dryatholn this January I thought this would be a great time to break their habits while raising money for a worthy cause
So 3 weeks into it and me and my girls are already reaping the awards and experiencing the benefits below :-
Improved sleep
More alert
Depression improved
Increased energy
Lack of cravings
Hunger stabalized
Increased productivity
Improved moods (even partners have noticed)
Weight loss and inch loss especially around the abdominal area
Less bloated
Some have said they feel like they awakened out of a coma and that they now realise how rubbish they were actually feeling
What a great way to feel eh?
Can you imagine feeling like that?
I think being part of a team has really helped  keep every one  motivated plus they feel now to give in would be letting all the other team members down. It can be hard to stay motivated on your own can't it?
But now they can see the benefits I am sure  they will now break their alcohol habits as thats all they are habits really and will continue looking and feelling fabulous
So what about you?
Do you think you should be cutting down on alcohol?
Does white wine send you a bit loopy too? 😉
Do you think you should cut down or give up all together for a while like me and my girls?
​Is every Friday night the start of the wine?
I would love to know your thoughts as always
Just hit reply and let me know
Karen "no more pinot" Austin xxxx
Ps
If you would like to know more about womens nutrition, health and weight loss while being part of a team just Click 
HERE
for my next Kick Start Fat Loss Course starting February
I did it and so can you!​
Hi
Thanks for your huge response regarding  last weeks email "scared of change" I think I may have hit a nerve with a lot of you ladies out there.
I thought I would let you all know, I have finally done it, I have kept to my word and set the wheels in motion of what will be a huge and scary change for me this 2015 Gulp 
I will let you know in a sec just what it is
As I mentioned last week I am not comfortable with change and tend to be a creature of habit. Change can be scary can't it  ?
But staying the same can be just as scary don't you think?
That feeling of life passing me by terrifies me , What about you?
I have always wanted to change a lot about my life and tend to think and dream a lot about how great my life would be If only I could make those changes.
The thing is before you can make change you have to face and confront your fears which is not easy is it?
It's whats been holding me back for years, I have not wanted to face the storm that goes with change ,even though I want so much what 's on the other side , but It just all seems too hard at times doesn't it??
Well no more!
I am taking action once and for all!
Here goes I am selling my house!!
To some of you that might not seem a big thing but to me it is massive!
You see its all I have.
I lost my dad to cancer a few years back and at the same time my mam was diagnosed with dementia and now unfortunately she is in the final stages and doesn't know who I am.
I am not from a big family and to not have them any more  in my life I completly fell apart
My house has been my safe haven through all of it but it's also been a ball a chain as well , as half of it still belongs to my ex and I am still paying for the majority of everything while paying off my own debts.
I have always had it in my head that losing my house and having to rent I would be a failure. Its horrible feeling  a failure isn't it?
Which is rubbish really and all in my head.
But in order for me to get a life I need to pay off all my debts and start again
I have put it off for ages as where do I start ? I know nothing about selling houses plus  I have to do it all alone, Alone can be scary can't it?
Well any way I have done it and been to an estate agents to get the wheels in motions eekkk  
Which brings me to you…..
What would you like to change?
Are you scared of it?
If so why?
Whats holding you back?
How great would your life be if only you could make those changes?
Working in Women's health & fitness I see a lot of women changing and transforming their lives and it's great to witness
Is one of your changes to lose weight, or improve your health and if so why havn't you done so yet?
Does it all seem too much like hard work even though you want it so much?
Is having to  face and confront issues you don't want to, too uncomfortable?
Scared of doing it alone?
Well let me help you
I am opening my doors again for 10 lovely ladies to join my Kick Start Fat Loss Course starting next week
There is nothing to be scared of as I will help you every step of the way
If you don't want to do it alone grab a friend to come along with you.
Or just come along your self and join our lovely family of girls who are all in the same boat and I promise you , you will never feel alone with us lot ha 😉
So if you are ready to grab the bull by the horns just click below and sign up
Group Kick Start Fat Loss Course ( starting next week)
Learn how to kick start your fat loss and drop a clothes size in 24 days by clicking HERE
Karen " still scared but doing it anyway" Austin xxxxxx
http://www.topazfitnessacademy.com​
 Are you scared to change??
Hi
Happy New Year!
Sorry I have not been in touch for a week or so but I really needed to get some down for me to think and reflect about 2014 and about what needs to change for me in 2015
I am not comfortable with change and tend to be a creature of habit.
I have always wanted to change a lot about my life and tend to think and dream a lot about how great my life would be If only I could make those changes.
Why havn't I made those changes yet to improve my life?
If all I had to do was  make some changes and  my life  could be amazing why can't I do it?
Because I am scared!
What if its not true?
What if those changes  make me fall flat on my face instead?
What if it is just a dream and I am just talking rubbish?
What will other people think of me?
I might hurt some one!
I have to do this all alone!
I dont want to face what I have to , to change its too hard!
What if it doesn't work out!
So after all these thoughts what do I do? I just stay the same never moving on , never moving forward just sitting still , letting life just happen to me and watch it pass by.
I actually went to see a medium at the end of last year not sure I believe in all that stuff but like to keep an open mind but what stood out to me was she kept saying to me over and over again Karen you need to move forward, stop living in the past, you are just sitting still.
I dont know why as I knew this already but for some reason or other it really hit home this time!
For the past 2 to 3 years I really have been sitting still scared to move forward for the fear of the unknown.
So as I mentioned I used Christmas & New Year  to really think about and assess my life and something just clicked like it can and not before time that I cant live like this any more, I need to face my fears or face a life where I feel like I am just exsisting!
To me I knew what seemed scarier and it wasnt the change!
Christ I am in my 40s now and we all know how fast time goes as we get older!
So gulp I have decided I am  going to do it I PROMISE and I will let you know as I am doing it as I might need your help and support 😉
So this brings me some questions to you
Like……..
What are you wanting to change?
Do you avoid change?
If so why?
Are you scared?
Whats holding you back?
What you scared off?
Why do you keep putting things off?
As you know  I work with women of all shapes and sizes who are drastically unhappy with their body image and want  to lose weight and improve their health.
They know that if they do this their quality of life will improve in more ways than one but they can be  terrified before they start with me.
I see it in their faces and body lanquage when they first walk in to the room of one of my courses.
I always think how much gutts it must of taken them to actually have the courage to sign up in the first place and then walk into a room full of strangers not knowing what to expect
They tell me once they get to know me it took them months some even a year to summon up the courage to sign up
I totally get it,,,,
Its terrifying facing your fears even though you want change
Believe it or not even though I am an instructor I still feel nervous going into other instructors classes full of people I dont know and I do this for a living !!
I never just like the majortity of you I suspect  never want that feeling of being judged
If one of your changes for 2015 is to lose weight and improve your lifestyle  dont do it all alone let me help you and I promise you , you dont have to be scared
Look what the lovely Cassy had to say after her first course
"Karen I want to thank you for everything you have helped me to achieve this year I feel a million percent happier, healthier and able to climb mountains I never thought I'd be able to. See you in the new year for the next installment"
I love recieving messages like this it really makes my day, I get so much out of transforming women's lifes and watching their confidence go through the roof and I really hope I inspire them as much as they inspire me to get off my  arse at times  ha 😉
So if the above does sound like you and you would truely love to transform your life, health and body for 2015 but you have been putting it off  for ages then just maybe its time for you change and join me on my journey of change too  
So if you feel ready  then I just may have a few last minute options for you 😉
First option –  Group Kick Start Fat Loss Course ( starting next week only 4 places left)
Learn how to kick start your fat loss and drop a clothes size in 24 days by clicking HERE
Second option – Women's Small Group personal Training (only 2 places left on my morning course and my night time is full now)
Fancy personal training but can't afford it then this is for you!
This is  great for those of you wanting a more individualized approach while getting the same results and benefits as my personal training clients along with enjoying the motivation and support of being part of a small friendly group.
Please click  HERE for more information
Third option –   Women' s One to one training, The Ultimate Women's Fat Loss and Health program (also including unlimited access to all my group Metabolic Effect and Boot Camp Sessions.
Please click HERE for more information
Any questions regarding the above just hit reply and I am always here ready to chat and help
So girls whats it going to be a year of moving forward or standing still?
I would love to know your thoughts on change, have you been standing still too scared of the unknown too?
If so let me know and your reasons why by hitting reply now ….
Lots of love for 2015 and always
Karen "scared but excited" Austin xxxxxx
Ps Lets Do this…..
Why can't I lose my Belly????
Why can't I lose my belly?
I seem to be losing weight everywhere else but my belly never shifts.
I am doing loads of exercise but my stomach never tones up.
I am doing lots of sit ups  but still no abs.
The above is what I hear all the time and it seems to be one of the most common problems that a lot of you suffer with and get so frustrated with.
I totally get it as that is my problem area too, inherited by my mam and nana's side "the flemings" apparently where we all seem to have long legs and arms and short bodies, plus when the weight goes on unfortunately it tends to go round the middle which is not so great if you have a short  body, making me feel like a" little barrel" ha.
But what I can say by following my top tips below I have now lost 5 inches off my waist Yippeeee!
Unfortunately there is no quick and easy answer to this problem  If there was I would definitely find it believe me)  There are loads of factors to take in to consideration and usually stubborn stomach fat is far less likely to do with just exercise and calories but more to do with hormonal issues.
The most common reason for stubborn belly fat is excess calories meets the hormones cortisol and insulin. But please be aware when insulin and cortisol are around in high amounts or in balanced just cutting calories (with out looking at the quality of calories ) and exercising more will not do the trick either in fact could make the problem worse.
Cortisol and insulin are alto egos and battle against  each other daily one raising blood sugar while the other is lowering it,so if you have high levels in one you will eventually have a problem with the other.
First let me tell you there are 2 types of belly fat visceral and subcutaneous.
Visceral fat is the fat found deep down under the muscular wall close to your organs. You can't pinch this fat and you usually find that if you have a lot of it you can have a hard protruding stomach.
The bad news is that Visceral fat is the more dangerous of the 2 due to it being close to the internal organs but the good news that it is the easiest to be burned off due to its improved blood supply.
Subcutaneous fat is stored above the muscle making it the sort of fat you can pinch or grab hold of and  usually spills over your waist band which I call the muffin top syndrome.
The good news it's the less dangerous of the 2 but the bad news it's the most stubborn of the 2 to get rid off due to it's lack of blood supply. If you have ever noticed the fat you can pinch is usually cold to touch again reinforcing the lack of blood supply to this area.
Well what do I do Karen?
Well when it comes to burning Belly fat you need to discover what you think the main underlying issue may be that's causing the hormonal imbalance and only then with consistency and persistence will the results start to happen.
So over all doing loads of sit ups and just counting calories is not  answer to losing stubborn belly but decreasing cortisol and insulin whilst increasing human growth hormone now that is the answer
Ok karen I get it, I understand its about hormones but how do I balance them so I can shift my belly?
There is no one quick and easy answer as every one is different due to their chemical make up, genetics, age, life style ,menopause etc…
But what I can give you is my top tips which have helped hundreds of women including my self balance these hormones and watched those belly inches drop
Karens Top Tips
.
1. Sleep
Nobody ever thinks of sleep and as being the most important fat burning tool but is the best thing you can do if you want to lose that belly!
Sleep lowers Leptin (hunger hormone which will reduce hunger when you are awake), It lowers cortisol and insulin( which is what you want)  and raises growth hormone and testosterone (again which is what you want) There you have it a perfect fat burning concoction of hormones and all you have to do is sleep.
If you are a poor sleeper like me and struggle to get around 8 hours sleep you will never usually reach your full fat burning potential,so working on improving your sleep time routine (which is what I am trying at the mo) is a must if you want to see that midriff disappear..
So if people call you lazy for lying in say you are burning fat 😉
Get some shut eye
I personally have nothing against the above. I love a good plate of pasta  and my toasted t cakes as much as any one else BUT the trouble is they don't love me back, in fact they don't love the majority of people
Many of you are extremely sensitive to and even allergic to wheat and gluten but you keep eating it regardless, oblivious that you are.
It can lead to all kinds of intestinal and digestive problems causing hormone distruption (especially 
Insulin!
) and weight gain especially around the middle 
the muffin top
 that dreaded hang over.
Its not until you eliminate these foods that you realize you have an issue
Eliminate all wheat and gluten from your diet fo 2 weeks and watch those inches drop!
Stress can come in many forms for the body and please note it doesn't always mean you have to be unhappy to be stressed.
Some examples of stress are sleepless nights, looking after your children, work,deadlines, extreme/yo yo diets, poor nutrition, over training, trying to be perfect super woman, caring what people think, money worries, etc…
Now the majority of people I see especially as I work with mostly women don't just have one of the above stresses but have multiple if not all of them plus more!
Stress in what ever shape or form especially over an extended period of time will raise the hormone 
cortisol
 causing belly fat, and waste muscle causing your metabolism to slow down.
You will usually see during excessive times of stress that due to the high amounts of
cortisol
 the arms and legs can become thinner and the middle section getting thicker due to its fat storing and muscle wasting abilities.
If you feel stress is becoming a real issue and could be one of the major causes of belly fat then you need to address it right away as if it persists not only will the belly fat stay but other organs and glands such as the adrenal glands, thyroid etc can be effected leading eventually to metabolic damage causing fat loss to become even harder to shift.
To lower stress change your life style now and take steps to lower 

cortisol

making sure you take time out for yourself, eg going for long walks in nature, reading, massage, sauna, meeting up with friends, improve your nutrition, hot baths with epson salts, take naps,  get 7 to 8 hours sleep where possible, Just try and schedule a little you time in and NO its not selfish it's important.
Less is more in this situation
Do you only concentrate on cardio as a means to lose that belly? I see it all the time in gyms people ploughing away for hours on a treadmill/ cross trainer or attending back to back classes. Dont get me wrong there is nothing wrong with cardio and is great for health but to focus on it entirely to lose weight and especially to lose that belly fat is not always the best option for the majority of people.
What I mean by cardio is any session that is completed at a steady pace so that you can last for around 45 minutes or more with out having to rest at all.
Too much cardio eventually will become a stress on the body causing all the symptoms that I mentioned above in the stress section, causing 
cortisol 
to rise leading to muscle wastage and fat storage especially around the middle. Have you ever noticed some one who only ever engages in long moderate intensity cardio like marathon runners will tend to have to have thinner arms and legs , no real muscle tone and a much thicker waste, hence the elevated cortisol response .
If you feel too much cardio could be an issue lay of it for a while and swap it for short bursts of intense movements and rest  and keep repeating for around no longer to 20 to 30 minutes.
Get lifting those weights and when I say weights not those little pathetic pink weights that I often see getting waved around in many classes 😉
The above type of workouts are the ultimate workouts for fat burning especially that belly due to cortisol being combined with human growth hormone and testosterone the ultimate fat burning concoction. 
Metabolic training is great for this which is why I love it so much
5. Too many Carbs/sugary foods
The majority of people I know eat more carbs/sugary low fat foods than any thing else! I mean think about it ,at a typical party buffet I bet the majority of us pick up the sandwiches, sausage rolls, pork pies, crisps, pasta, cheeses, first and oh yeah maybe a slither of salad just to be healthy ha 😉
The thing is the majority of us over do the starchy carbs/ sugar at meal times not even mentioning snacks and pleased don't be fooled by low fat foods which are usually full of sugar!
Over doing starchy carbs including your breads, cereals, pasta, bread, potatoes, rice, pasta, starchy veg etc are going to mess around a with your
 insulin
 levels causing a huge spike of it being released into the body which is not what you want as not only will this not help with the belly fat but you will be craving in no time for more starchy/sugary foods making the problem worse and causing a vicious circle.
Reduce your starchy/sugary foods.
At meal times the starch should be the smallest section on the plate instead of the largest 😉 and the rest of the plate should be mostly made up of protein and fibre eg meat and veg/salads.
Including protein helps balance 

cortisol

 levels and the fibre will help balance

insulin

 levels which is what you want.
What is your alcohol intake like? Be honest 😉
I must admit I love a glass of wine as being a stress head at times it helps me relax but sigh its not going to help me or any of you with our hard to shift belly it will only make matters worse I am afraid.
Alcohol  raises 
cortisol
 levels which you know by now is not good but as well as it being  full of sugar and calories but it will put your whole fat burning process on hold until the body has processed and disposed of it which can in some people take up to 3 days.
So if you think about it the majority of people as soon as Friday comes opens that bottle of wine or what ever your tipple is for the majority of the weekend but the body won't have disposed of it usually until Tuesday/Wednesday then before you know it , it will be Friday again meaning your body having only 1 to 2 days with the ability to burn fat and that's only if your diet is good!!
Tip number 6
If you are serious about ditching that belly then I am afraid that alcohol will have to go or at least not spend Friday to Sunday putting it away 😉
If the thought of giving up alcohol terrifies you ha try to reduce and limit that alcohol and keep it to one night only focusing mainly on dry white/ red wines or white spirits which tend to have lower sugar content but beware of the mixers you are mixing them with as they can be a problem in them selves so stick with opting  for soda water or slim line tonic mixer.
DONT FORGET Alcohol makes you crave sugary and rubbish food so not good
Is the menopause rearing its ugly head, or are you going through it or has it past ?
If so this is probably the reason for increased and stubborn fat loss around the middle.
A lot of women get really frustrated as they don't understand where their hour glass figure has gone from their younger years and wonder where their sudden belly has come from ;-(
Let me explain during the menopause our estrogen and progesterone levels drop causing an in balance of 
insulin 
and 
cortisol
 hormones.
When you were younger estrogen and progesterone helped oppose the damaging effects of too much 
insulin 
and 
cortisol
 helping the body stay balanced and slim with that hour glass figure but during the menopause we don't have this any more
So what does that mean?
It means your body is very sensitive to stress/
cortisol
 causing symptoms like I mentioned above in the stress section where the waist gets thicker and the arms and legs get thinner with muscle wastage plus you also become 
insulin
 resistant meaning you will have lots of it floating around in your system not getting used up storing fat so the worst thing you can do is over do the carbs/sugar as your body will want to increase
 insulin
 even more.
Previous diet and exercise regimes that once worked when you were younger will no longer have the desired effect in fact it will make the issue worse.
The worst  thing you can do is eat less by just cutting calories and exercising more.
With diet its not just about the calories its about the quality making sure most of your calories are coming from protein and fibre eg meats ,veg and salads and very little from starch/sugar  which will make the insulin issue worse hence belly fat.
With exercise less is more, too much exercise especially cardio will increase cortisol so concentrate on activities like leisurely walking , pilates, yoga, meditation which will lower cortisol and swap cardio for weights and short bursts of intense movements. 
When choosing weights select a weight where you can only complete 10 reps and no more then rest and do 3 sets then move on to another exercise and repeat.
Lifting weights will help combine cortisol with growth hormone and testosterone which will burn fat and preserve muscle to keep your metabolism healthy and effective
So if you are menopausal PLEASE PLEASE remember to take the approach of  it's the  quality of the food not the quantity and less is more with exercise NOT what you have been led to believe just eat less and exercise more!
Well that's the end of my top 7 tips to help with stubborn belly for today but there are tons more I could share but I don't want to send you asleep ha 😉
The above are the most common reasons so just read through and decide if any of them apply to you and start to take action.
If a few apply to you just focus on one at a time for a few weeks then move on to another which is what I did focusing on first reducing my carbs/sugar then reducing my exercise.
So what you waiting for start applying these tips and let me know how you get on as I would love to know
Karen "if i can you can" Austin xxxx
PS
Let me know if there is any thing I can help you with in future blogs.
PPS
If you would like to work with me I am now taking bookings for Novembers Kick Start Fat Loss Course unfortunately my website is down at mo so just message me if interested.
PPPS
If you would like a free e book on the The Top 5 Most Common Mistakes In Exercise And Diet plus subscribe to my weekly blogs then please hit the link below